"Darren demonstrates a level of in-depth information gathering and consultation that is exceptional. He then develops a deep understanding of the client's culture, challenges, and opportunities. This allows him to deliver a space solution that truly meets the current and future needs of the client."
The Métis Nation of Ontario was planning a move to a new headquarters and needed advice on how to diagnose their needs and plan a new office that would better represent their unique culture and status as a nation. Darren Fleming and his team provided a customized consulting and workspace strategy that culminated in a move to an amazing new, downtown location.
Download our Case Study PDF here.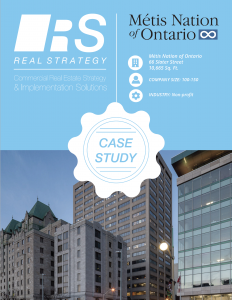 Space
Métis Nation of Ontario
66 Slater Street
10,665 Sq. Ft.