Please click here to read Part 1: https://realstrategy.com/construction-and-layout-much-ado-about-hybrid-with-liz-miller-of-parallel-45-design-group-ltd/
The shift to hybrid has made companies and organizations rethink their need for space and how they use it. The simple equation of X amount of space per person multiplied by the number of people still works but will inevitably leave you with more space than what's needed, since many of those seats will be vacant while people work from home.
Managers need to figure out how often they expect employees to be in-office, and at what frequency. Leadership also needs to understand whether employees are coming to the office to work on solo tasks or collaborative team-based work.
Hoteling and hot-desking help create space that serves a functional need but without having a one-to-one ratio of workstations to employees. Liz refers to this approach as a "free address" and stressed how it has helped companies navigate the changing landscape of the pandemic and commercial real estate market.
If only half of a company's employees will be in the office on any given day (if that), the hot-desking model allows them to hire more people and grow their business without necessarily having to expand their office footprint — which increases their rent and overhead costs.
"The free address approach makes companies realize that they don't have to expand their space but instead, simply rejig it. The company enjoys saving on rent and employees like the flexibility, it's win-win!" — Liz Miller (Principal, Co-Owner of Parallel 45 Design Group Ltd.)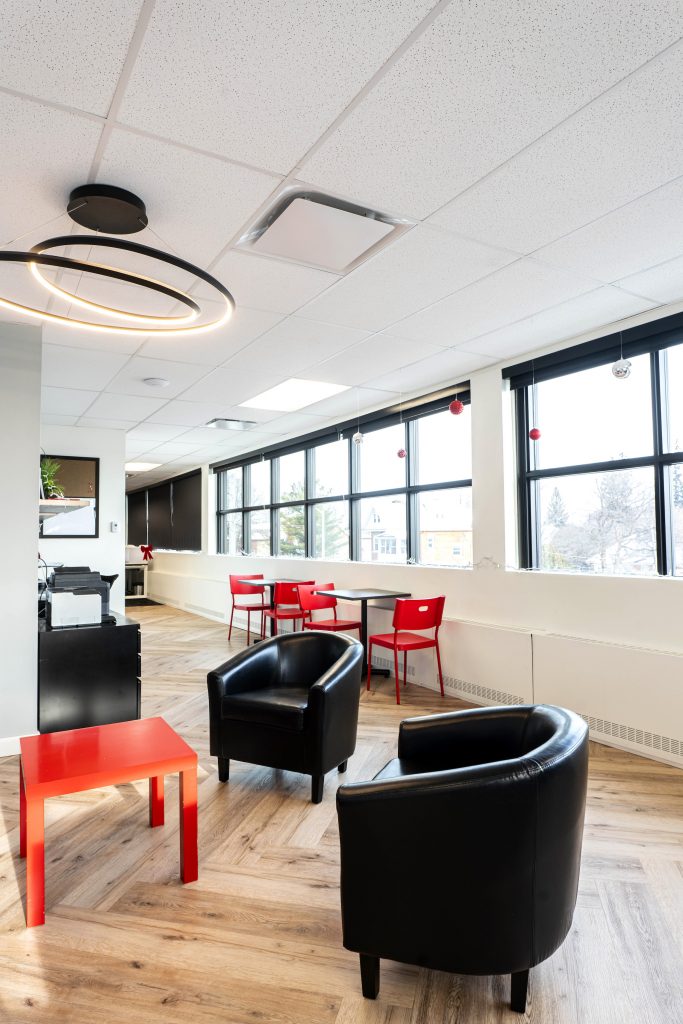 Photo by Chris Roussakis courtesy of inMotion
Every company's situation is different; the employees' roles differ, and people's personal and living situations also vary. In other words, every single person's needs are different at different times. Companies want their staff to come into the office to work collaboratively but they also want them to be safe. It's not a one-size-fits-all situation.
Smaller organizations are one consideration but how do you implement this needed level of flexibility across larger organizations and departments that span hundreds of people or more? The scalability of hybrid workspaces is the current puzzle being assembled and Liz believes that hoteling and hot-desking setups are key in this regard. Since you can't tear all the buildings down and build them back up, modular designs and furniture that serve a multi-use purpose allow companies to anticipate changes and adapt to them while lessening the impact on productivity.
Liz told us about her project with inMotion (a local digital marketing agency) during the pandemic. Originally, Liz got the call to complete their office space plan and then the pandemic hit. As was the case with most businesses considering renewing or starting a new lease, inMotion put on the brakes opting to observe where the pandemic might go. Two weeks later, Liz got a call to restart the work since inMotion was finding itself busier than ever.
"They needed an office design that would allow them to grow. They have a very open, collaborative, and creative culture and so I wanted to reflect that in their work environment. The new designs leaned heavily on flexibility with open desks, the ability to go into a couple of smaller meeting rooms, a cool kitchen space, and lots of light!" — Liz Miller (Principal, Co-Owner of Parallel 45 Design Group Ltd.)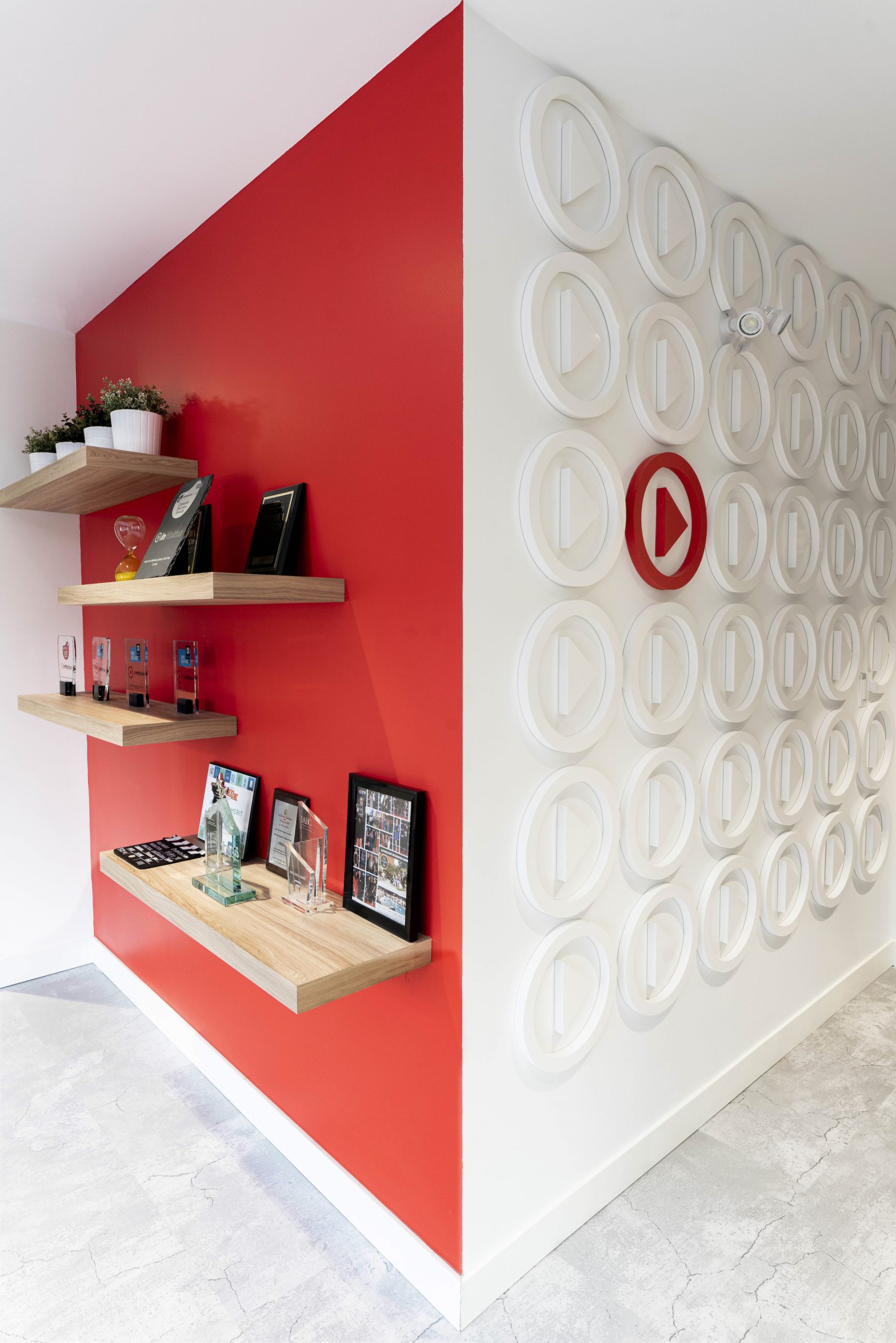 Photo by Chris Roussakis courtesy of inMotion
Furniture is the future
Furniture is actually a very big piece of the puzzle according to Liz. Client needs and spacing requirements have to be taken into account of course but Liz advocates for considering creative alternatives. Sure, you could add a series of desks but what would happen if you implemented a couch instead? Now that space becomes more functional in supporting different work, styles, and comfort. Besides, who wouldn't want a couch in their office?
Flexible furniture and modularity allow organizations to reconfigure their space rather than redesign it. One of the biggest complaints surrounding open offices historically is that they're too noisy and lack privacy. Sound attenuation panels can be used to help with the acoustics, provide a little bit of separation, and therefore privacy. These panels are very light, flexible, and can be moved around as the office changes and is iterated upon.
"I think that the new normal is that there is no normal. It's going to be a constant evolution that requires listening to what people are thinking or feeling and reflecting that potential in the office environment." — Liz Miller (Principal, Co-Owner of Parallel 45 Design Group Ltd.)
The evolution of office design and philosophy is happening faster than it has in the past and practitioners are trying to keep up while also looking forward. When designing an office and choosing the furniture, it's a matter of figuring out what the client needs, what will help make their business successful, what changes might be anticipated or should be considered, and combining all of this into an awesome space that people want to spend time in.
Liz sees education as a large part of her role when designing for a client. Educating them on new ideas, what other people have done, what has been successful in the past, what we're hearing about the future, etc. The more information and insight that can be given, the better the decision will likely be. As ideas and technology continue to evolve at an accelerated pace, changes will continue to arise. Couple that evolution with larger external factors like a pandemic and it's clear that businesses shouldn't anticipate anything being set in stone.
"There's no normal as we're always changing our ideas. Everybody's business is different, a design business is different than a law firm for example, so "what is right" is different every single time. Even this new hybrid model requires different design and furniture solutions in each case." — Liz Miller (Principal, Co-Owner of Parallel 45 Design Group Ltd.)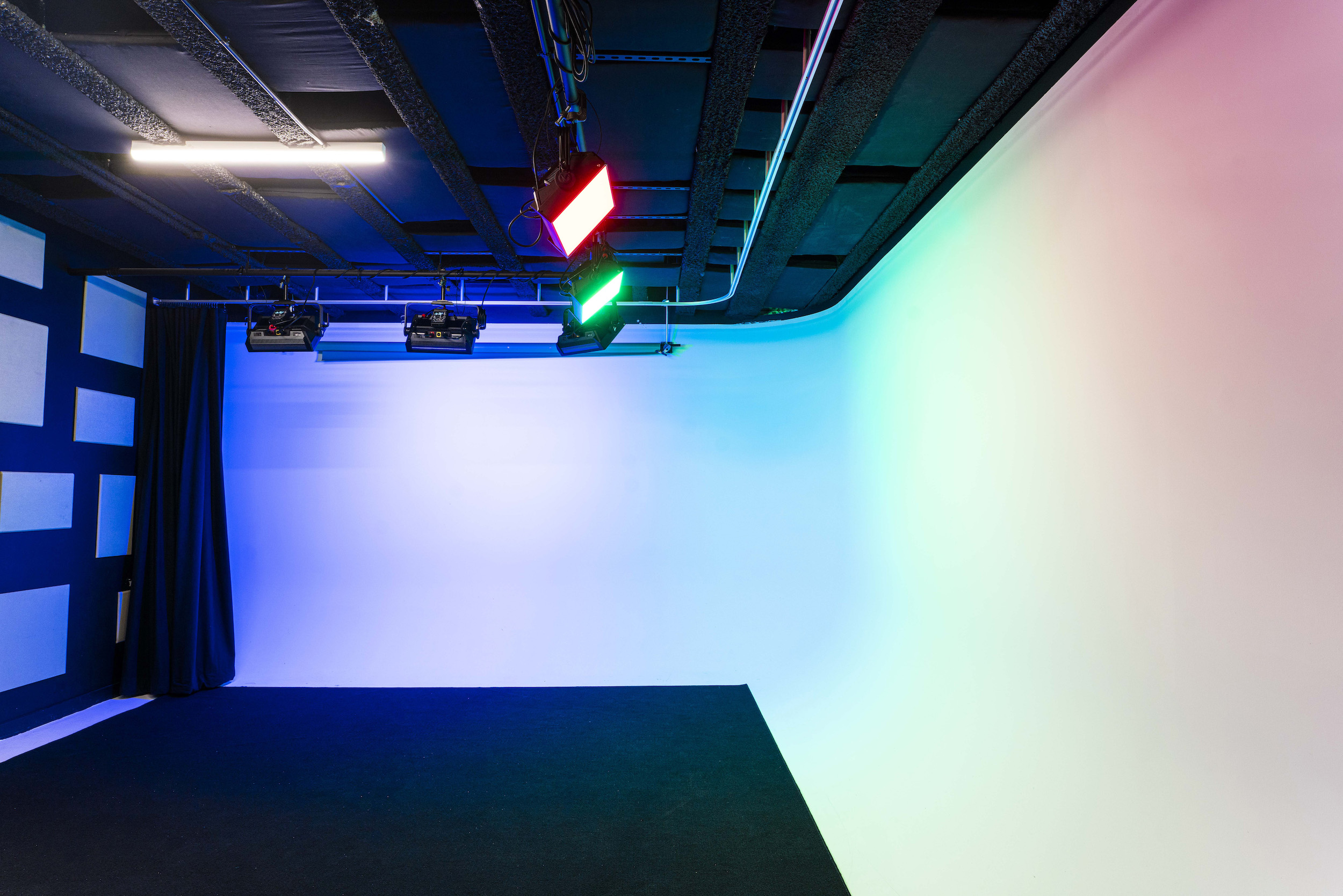 Photo by Chris Roussakis courtesy of inMotion
Real Strategy works alongside interior designers and client management teams to help consult on workplace strategy and culture. Contact us today so we can discuss your organization's hybrid work approach and what your physical office space should look like!