Business Strategy 101 for Commercial Real Estate
At Real Strategy we believe the best predictor for your success is if your advisors truly understand your business strategy. And no matter if you are a for-profit or a not-for-profit organization, it starts with 4 questions:
What problem are you trying to solve? What are your goals? What services or products do you offer? What are the core business activities that occur in your organization?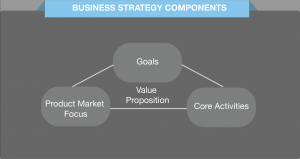 The answers to these questions form the basis of your business strategy and are the foundation for your whole organization. But not to worry if you don't have all the answers at your fingertips. Real Strategy employs a number of engaging tools and templates designed to bring this information to the surface and will sit down with you and your team to facilitate getting this right.
From there we work with you to build a Strategy Map, linking objectives together using the framework of a balanced scorecard. Finally, we work with you to set achievable targets, timelines for completion, and identify key performance indicators to measure your progress.
Here are some typical questions we ask in each area to help build your strategy map.
Financial
Are you trying to increase revenue or decrease expenses? If so by how much? Are we trying to increase your gross margins or improve net operating income?
Customers & Stakeholders
How does your team interact with your customers and key stakeholders? How well is this working? In order to meet your financial objectives, will you be introducing any new products or services? Will you be keeping more or less product on hand or will you be outsourcing? How will you measure customer satisfaction?
Internal Process
What systems or process within your organization might have to change? Will you be investigating new partnerships to meet your objectives? Does your present brand support or hinder your overall goals? Is your present communication strategy sufficient for what you're planning? Do we need to be more innovative?
Organizational Capacity (or Learning & Growth)
Based on the plans above, will we need to introduce any new technology? Do we have the right people working in the right roles? Will our working environment need to be modified? Can we improve our supply chain? What training or knowledge do we need? How do we evaluate new partners or markets? How will we improve innovation? Is our culture ready for the changes we might be facing?
Contact us today to schedule a free consulting session with a Real Strategy Advisor.