Please click here to read Part 1: https://realstrategy.com/construction-and-layout-office-evolution-with-richard-newbury-of-creative-friction/
As many of Real Strategy's interviewees have maintained throughout this series, the office is not going to die. Instead, the need for a physical workspace is going to change and evolve. Although the initial reaction from clients might have been the fear that shared collaborative spaces won't work anymore in a post-COVID world, we believe it's actually the reverse.
"I think the need for collaborative space is going to be more even more popular. After being at home for so long, people are going to want to interact with one another but in a more comfortable and distanced space. I also think that in three to five years, we could very well be having another conversation on collaboration and how to make it even smarter!" — Richard Newbury (Interior Designer, Creative Friction)
If there's a change to come it'll be revisiting layouts that were becoming smaller and smaller in terms of allotted space per individual but still incorporated lots of shared support space, collaborative areas, breakout rooms, etc. Again, the philosophy around shared collaborative or meeting areas isn't going anywhere but it will have to be rejigged so as not to be too small and silo people off like the cubicle farms of old.
Richard spoke to us about a project where the client was entertaining bringing their employees back to work and needed a way to make them feel comfortable and safe. They didn't want to lose their office's feel and still wanted the visibility that their open and shared floor plan was designed for. Yet, with so many office employees set to spend some or all of the workweek from home, concerns regarding population density in physical space may be substantially alleviated. Furthermore, most organizations aren't likely to let expensive excess space sit half (or three-quarters) empty much of the time.
The client project resulted in the installation of open workspace modules but with glass enclosures. The glass provided both the separation that was required for COVID safety protocol purposes as well as maintained the feeling of openness the company was used to seeing in their office. The design still provided employees with access to natural light and outdoor vistas (which have proven important, especially for mental health), provided an alternative for employees whose home situations weren't the most conducive for their work, and kept everyone feeling connected. Richard is the first to admit that this type of approach may not be a long-term solution, but it served in the interim and allowed employees to still work together.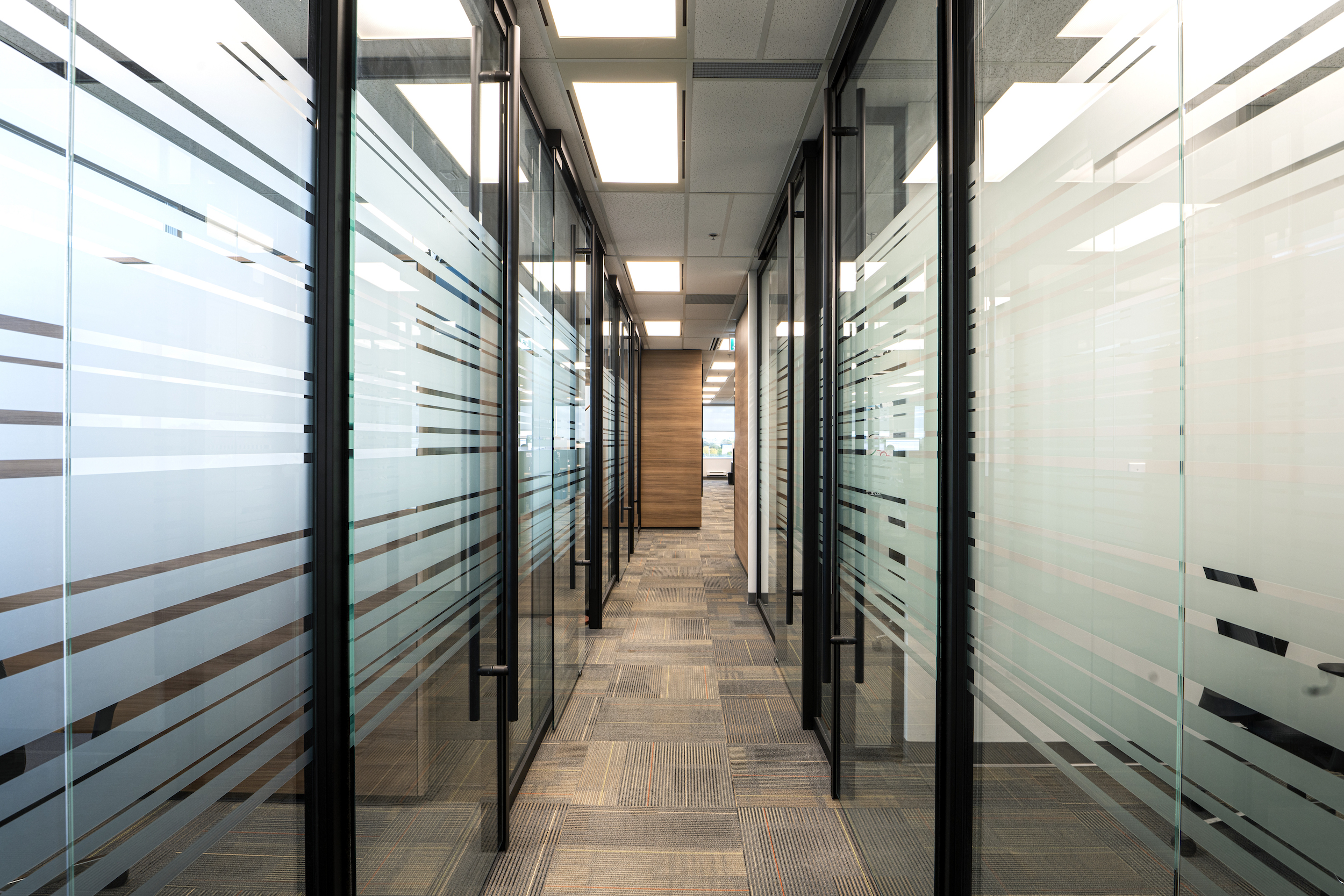 Photo by Chris Roussakis courtesy of GMSPC
He also commented on how a lot of the intention behind creating trendy offices with foosball tables, drinks on tap, etc. were ultimately rooted in trying to keep people at the office longer. These lures were still beneficial in lots of ways but the purpose behind them was to provide a place where employees would want to spend more time. Now the driving purpose behind these implementations will be for employees to come together, connect, and have those serendipitous interactions that are harder (if not impossible) from home.
"We're still going to need some really smart and creative ways for people to interact with each other but for a different purpose. The intention can't be to make people stay and work for seven days a week. Instead, we need to prioritize delivering a beautiful, fun, and way better experience than working from home provides. There will be a different philosophy at play." — Richard Newbury (Interior Designer, Creative Friction)
Designing for a paradox (for now)
Interior designers are quite literally working with a paradoxical situation for the foreseeable future. The main reasons we want to bring people into offices and workspaces are for social interaction, collaboration, and connection but this has to be done in a way that still allows for adequate physical distance and separation. As Richard put it, interior designers will have to support an ethos of "coming together but further apart".
Offices have undergone a similar evolution. When everything was shut down, everyone was working from home. Then, over the course of the last eighteen months, people started coming in individually when it was needed, but still spent most of their time working in a physically remote environment. Now we have begun the transition back to physical office space, but have unresolved safety concerns regarding capacity.
People can't wait to resume social connections and be able to work together more closely, but we will need technology to support us. Richard believes that platforms and tools such as space management apps, germicidal or ultraviolet tech for disinfecting workstations, and more, are the logical next steps to follow practices like keeping our distance, washing our hands, and cleaning frequently used areas.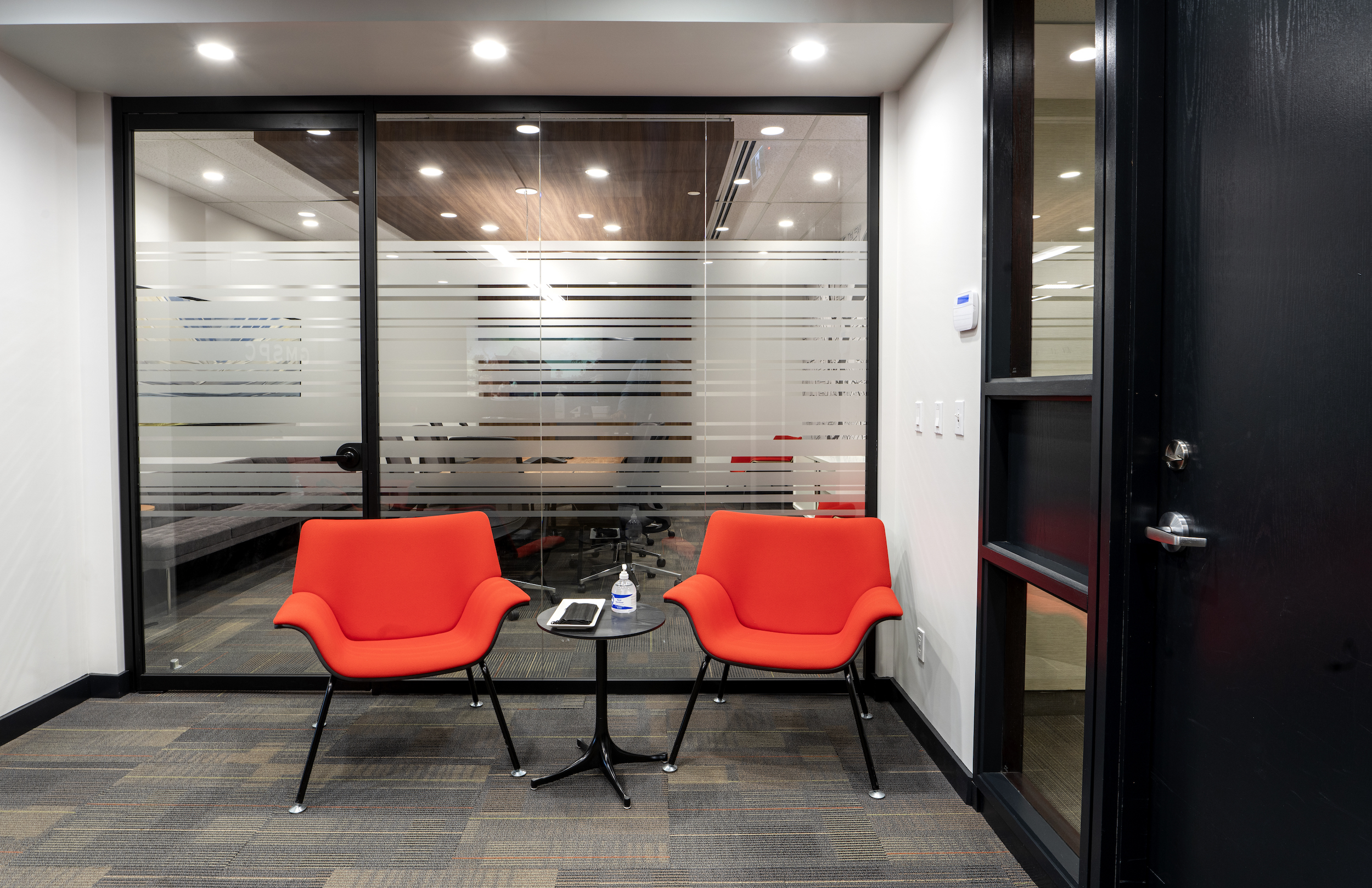 Photo by Chris Roussakis courtesy of GMSPC
"People are still going to be people — that's the point of all of this. We can't not be social and interactive animals, that's what we are. I think that the office needs to help support that in some way, in a new way!" — Richard Newbury (Interior Designer, Creative Friction)
Richard is of the belief that the moniker the new normal is not quite apt. The phrase creates the illusion that everything returns or stops once we get there but that's not the way anything works in real life. Nothing stays the same. Normal is fluid, continually. We may see new strategies that will be dominant for the next while (like hybrid work) but offices and other working environments have never stopped changing. How will this manifest with respect to future interior design trends? Richard humbly admits that he isn't certain but he is sure that they will continue to change and evolve with time, technology, and people.
Real Strategy has been working alongside interior designers and client management teams to help consult on workplace strategy and culture. Contact us today so we can discuss your organization's hybrid work approach and what your physical office space should look like!