The biggest looming commercial real estate question in Ottawa is: What is the federal government's plan regarding when, and in what capacity, will their employees will be returning to work? Federal public servants have been working at home since the beginning of the outbreak of COVID-19, in March of 2020, which has created a unique opportunity to transform the way the federal government uses physical office space under their
GCworkplace policy guidelines
. However, you might not be aware there's been a pilot project acting in tandem with GCworkplace for the past two years; it's called GCcoworking.
GCworkplace policy guidelines have office space and workstations organized into different zones.

Quiet Zone: Includes open, semi-enclosed, and enclosed individual work stations intended for focused work as well as the need for more private spaces.
Transitional Zone: Includes a variety of open and enclosed spaces with both individual and group work stations, semi-enclosed collaboration, and support spaces like shared equipment areas and lockers.
Interactive Zone: Provides a variety of work stations intended for socialization and group collaboration that are located away from quiet zones to help support a balanced environment that accommodates different work styles and activities.
GCcoworking was initiated to provide federal employees with an interdepartmental asset of shared workspaces separate from any department's office in order to offer more flexibility, accommodation, and increased collaboration. The pilot consists of co-working sites in Kanata, Orleans & Gatineau along with other locations throughout the country. The program helps bolster the federal government's approach to hybrid work with more flexibility around how and where work gets done.
An accelerated transition
COVID-19 has caused a behavioural shift in people and organizations alike in adoption of remote working. The federal government and its civil servants, like so many others, have had to pivot towards remote work and adopt a wide number of technologies in order to connect, collaborate, and accomplish tasks. GCworkplace aims to help transform government offices into spaces comprised of different activity-based zones, equipped with various workstation configurations, intended for a multitude of tasks.
GCcoworking is an extension of the move towards flexible work and aims to provide accommodation guidelines encompassing an ecosystem of connected workplaces that include the home, shared co-working sites, physical office space, as well as other locations. If this approach proves to be successful, it is expected to become a key consideration of the government's on-going requirement for office real estate holdings. These alternative workspaces outside of departmental offices will be essential components in managing federal employees as they begin returning to physical work sites in more volume.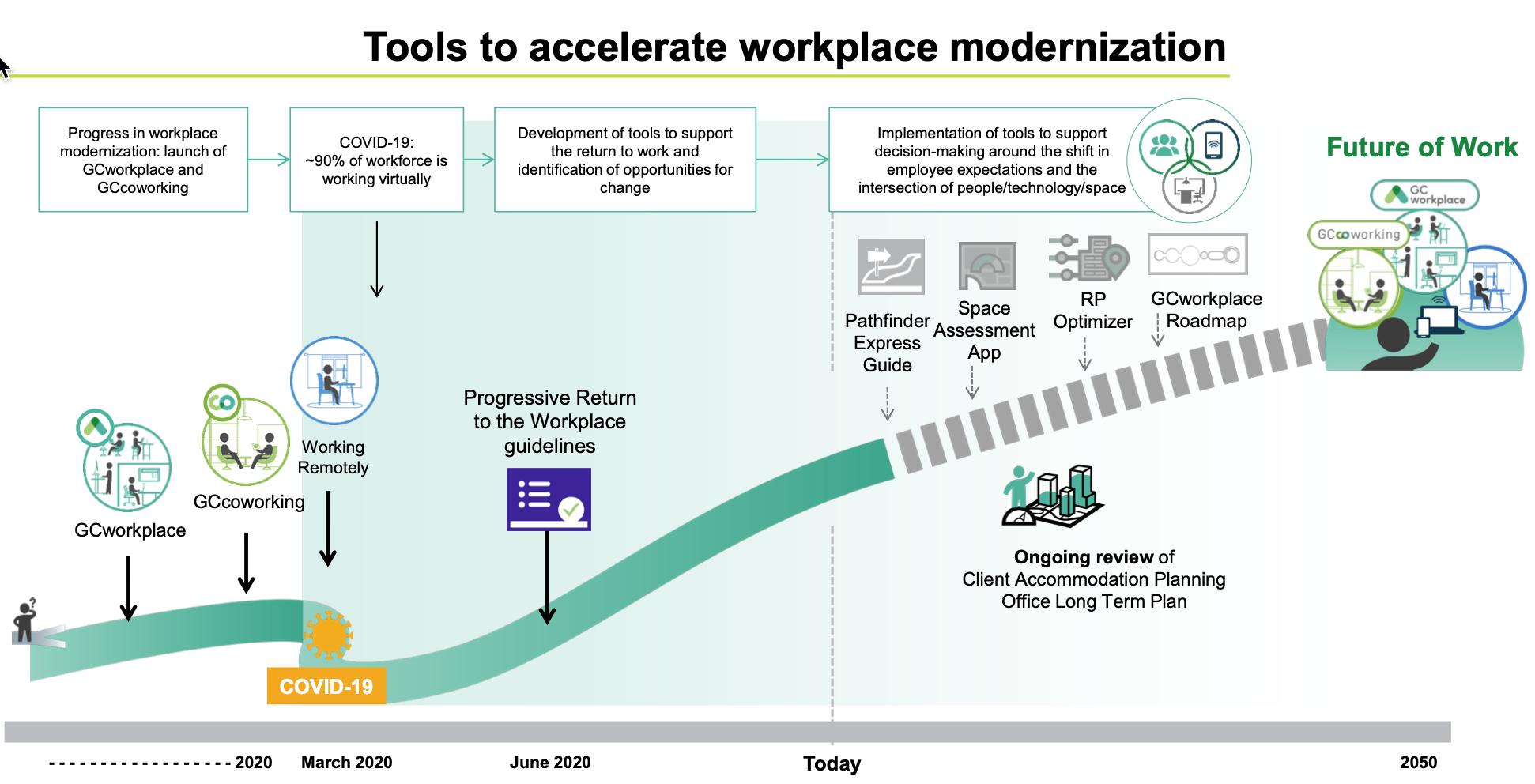 Future of Work beyond 2021: A Government of Canada Real Property Perspective by Public Services and Procurement Canada
Questions being raised
With the successful incorporation of both remote work and GCcoworking sites, many are wondering how the traditional workplace will evolve when looking towards the future. How much space will we need? Can a physical office space, even one with a more modern layout, still support this new hybrid way of working? With so many employees opting to work from home at least some of the time, will offices or co-working sites be relegated to being glorified meeting spaces, primarily used for collaboration between peers? If so, what does that look like?
There's also speculation on how workplace culture will evolve to keep colleagues feeling like part of a team and avoiding silos. Furthermore, what will be the new default expectation from management regarding the minimum time employees must spend in physical office space? Even though the pandemic has accelerated progressive thinking about remote-based work, there are still behaviours and mindsets that will have to be adapted as we move forward.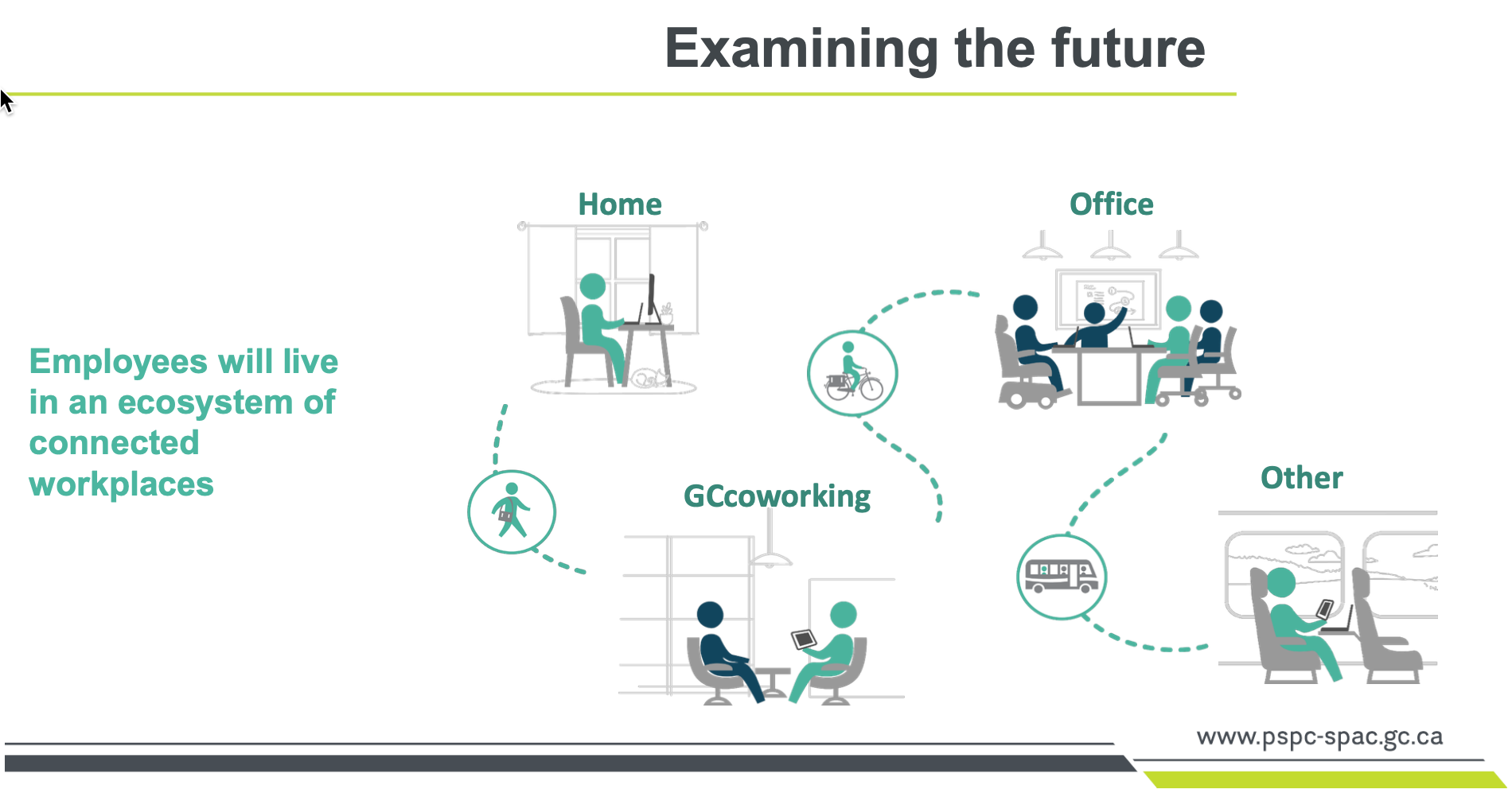 Future of Work beyond 2021: A Government of Canada Real Property Perspective by Public Services and Procurement Canada
GCcoworking is the planned solution to meet a number of workplace requirements. Whether it's to accommodate people who have personal circumstances where their home is not conducive to work, GCcoworking aims to provide a quiet place to work. Where complex technology setups are required, GCcoworking sites can be equipped with more tools and resources than provided on a home-based laptop. Finally, for projects requiring active collaboration, or larger departmental meetings, GCcoworking allows for civil servants to congregate in a more accessible environment than travelling to a downtown office.
The impact on the commercial real estate market
GCcoworking, and similar hybrid work practices, if successful, will undoubtedly have a long-term impact on the commercial real estate market. It's a social experiment between employers and employees that is about to begin. Real Strategy has been discussing the exploding downtown office vacancy in Ottawa throughout the pandemic. We've also been reporting on how landlords have had to make significant concessions or inducements to attract and retain tenants, as well as the new found affordability of high-quality space.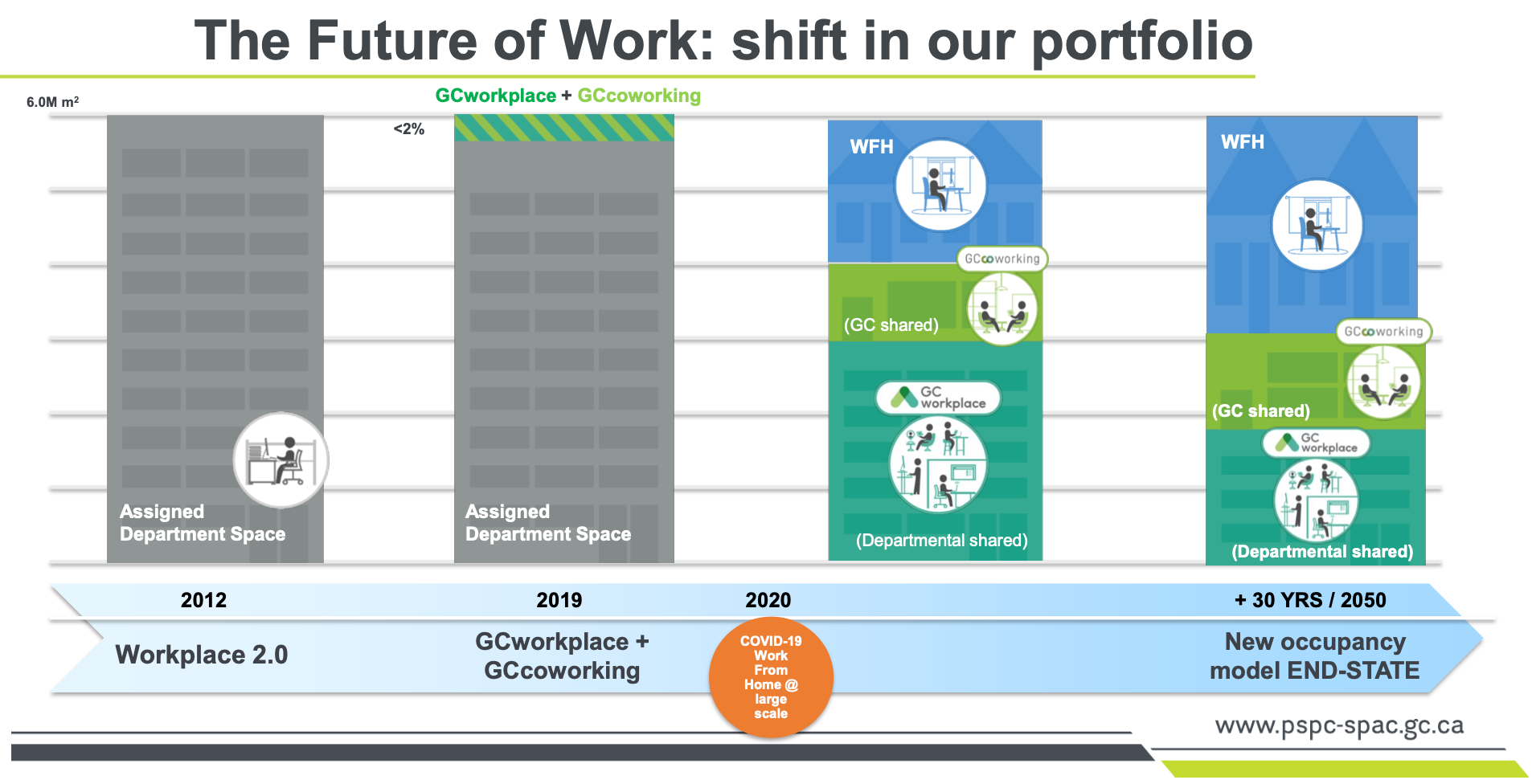 Future of Work beyond 2021: A Government of Canada Real Property Perspective by Public Services and Procurement Canada
When it comes to the federal government employees…
Before COVID-19, federal servants performed their work at a departmental office with an assigned space which totalled over 60M SF across the city
During COVID-19, public servants abruptly transitioned to a work from home model
After COVID-19 (next 3 years), the government plans to move to a model where 50% of the workforce is in GCworkplace configured offices (which would require roughly 32.3M SF of office space), 17% are working at GCcoworking sites (which would total roughly 11M SF of space), and the remaining 33% are working virtually/remotely
By 2050, the intention is have 50% of employees working from home with the remaining split between GCworkplace configured offices (needing roughly 19.4M SF of office space) and GCcoworking sites (needing roughly 12.9M SF of office space)
Overall, this shift could represent a potential reduction of more than 30M SF over the next 30 years in terms of physical office space
Given that the federal government has traditionally held about half of Ottawa's office real estate, the shift from offices occupying more than 90% of their work locations down to 50% would be massive to say the least. Similar to what was seen at the beginning of the pandemic where companies and business were shedding office space left and right and putting their unused space up for sublease, this type of change would likely cause a huge uptick in office vacancy, as long-term tenant demand plummets.
Let's assume that the government was to get rid of just 10% of their roughly 64.6M SF of office space in the next year or two, this action alone could cause an additional 5% increase to Ottawa's vacancy rate, pushing it over the threshold of 10% quite easily. The new possible reality would be unheard of in recent memory and certainly would not have been entertained a mere two years ago. Since the pandemic continues to linger, the shift from GCworkplace to GCcoworking could happen at an even quicker rate since employees aren't returning to their offices in large numbers any time soon.
Real Strategy is watching this story unfold and believes there will continue to be record vacancy in Ottawa along with an extremely tenant-friendly market. Contact us today so we can discuss your organization's remote as well as back-to-work policies and what your calculation for physical office space should look like. We'll use real data from your company to come up with a custom tailored solution that works and saves you money!