Please click here to read Part 1: https://realstrategy.com/returning-to-work-with-welch-llp/
As an essential service, Welch LLP staff have always had the ability to go into the office throughout the pandemic but with restrictions in place. Back in May 2020, when the first lockdown ended, Welch started with a three-person maximum skeleton crew in-office and a very controlled approach to accessing their space where employees would have to seek permission before going in. When restrictions loosened throughout the summer, the company moved to a rotating policy of daytime versus evening or weekend access.
After trying a variety of different strategies to manage population density numbers, Welch landed on a method that was tied to the team and/or task. They may have started with a system focusing on limiting the maximum number of people allowed in the office but found it to be too restrictive, inflexible, and gave no accommodation to the varied needs of individuals and personal work preferences.
From there, they tried looking at a model where employees could choose different times of day to come in. This recognized that certain people feel they're more effective at various times of the day (morning people versus those who like to burn the midnight oil) but didn't allow for employees to collaborate as effectively in a team environment. Thus, they ultimately decided to grant access to their office based on the type of work and human resources needed to accomplish it.
Here are some other basic protocols instituted as part of Welch LLP's office access procedures:
Mandatory mask-wearing indoors
Creation and posting of informational signage
Daily health check email and signed visitor waivers
Outfitting the reception areas with plexiglass setups
Hiring their own cleaner for everyday routine disinfection
Physical distancing with a maximum 50% population capacity per floor
Supplying masks and hand sanitizer free of charge
The process wasn't easy though, needing to consistently plan and manage who was where, when, with whom, and communicating all of this in a timely fashion taxed internal resources. So, Welch decided to pilot an office space management app where the staff was able to book their desired workspace and time slot. Everything now updates and communicates in real-time creating transparency and minimizing the internal strain of planning and scheduling desks, meeting rooms, etc.
Pre-COVID, Welch had actually considered downsizing to a shared space hoteling model but, although there was a financial case for this move, there was also a reluctance to part with any of their beautiful space. Seeing their attractive and modern office as a differentiator that reinforces Welch's people-first focus, they in fact decided to take on another floor back in 2019.
Both Kathryn and Jim expressed that they couldn't be happier with the extra space and that it has given them additional flexibility while physical distancing measures have been in place.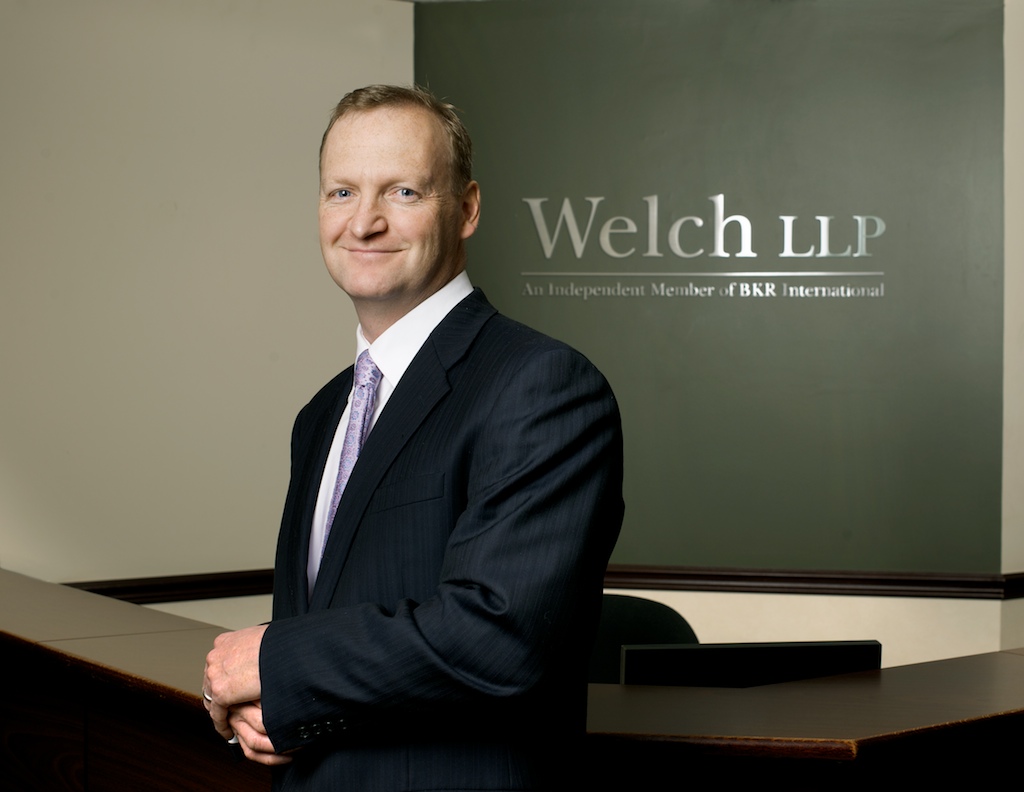 "We're committed to our space for a few more years. This provides an ideal timeframe for us to evaluate our office needs, in light of the experience gained in the last year, before making a long-term decision with respect to our office environment." — Jim McConnery (Managing Partner, Welch LLP)
Make sure to join us next time for the third and final part of our interview with Welch LLP where we explore their people-first culture and the importance of wellness.
Real Strategy Advisors has also been a strong proponent of human centric office space policies regarding employee work-life balance, mental health, and wellness. We can help consult on workplace strategy and come up with custom tailored solutions so your employees and office culture don't suffer under "the new normal" — contact us today!
---

Welch LLP is a full-service Chartered Professional Accounting firm based in Ottawa that provides a range of accounting, tax, advisory, and other specialty services to private, public, as well as not-for-profit organizations. Home to more than 300 staff across 12 offices in Ontario and Quebec, Welch LLP provides industry specific expertise with a focus on relationship-driven client service.