Real Strategy Advisors is thinking about what offices will look like and how they will operate during and post-pandemic. We addressed some of the implications that arose from polling back in late August in our first article which raised questions like how to decide who gets a dedicated desk and whether people are ready for largescale desk sharing? In September, Real Strategy conducted a survey looking to better understand how COVID-19 has impacted the workplace and what people's experiences have been with respect to remote work. We'd like to share some of the results and contextualize them in the larger conversation about remote versus in-office work.
Before we delve into those insights though, let's talk about our respondents. Of the 102 surveyed, 67% reported working in the private sector, 18% in the not-for-profit, and 15% in the public sector. When looking at seniority, 61% of our respondents are in executive roles, with an almost even split between managers and those not in a leadership or supervisorial position at 19% and 20% respectively. The insights we've collected also come from a cross-section of small, medium, and large businesses as seen below: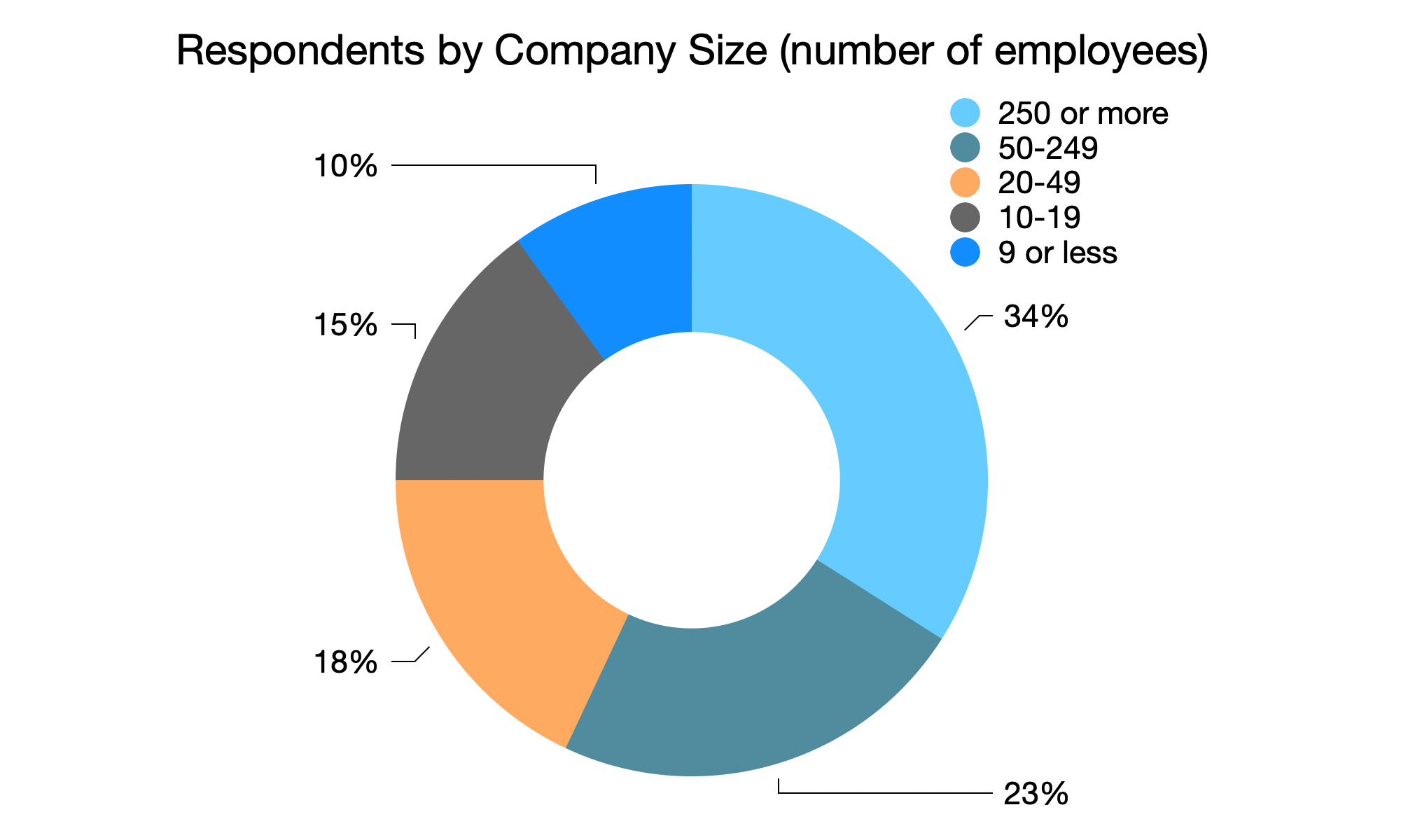 The experience overall
Our online survey was largely seeking to understand the experience of the remote workers during COVID-19 and how their expectations may have changed in terms of what they expect going forward with regard to the mix of remote versus in-office work. When we asked respondents about their typical work week during the pandemic, over 80% said they worked remotely four or more days per week. Where Real Strategy Advisors expected to see a large number of people working from home, we expected a larger amount of people to be going into the office on a semi-regular basis — that simply wasn't the case.
When we asked how they'd score their overall remote work experience on a scale of 1 to 10, over 80% of respondents gave a score of 7 or higher and the average score was closer to 8 (7.78 to be exact). This finding suggests that most people have generally positive experiences working from home. However, we had heard anecdotally from several employers that corporate culture and idea-sharing was suffering. As it turns out, the quick pivot to remote work resulted in 70% of respondents reporting that collaborating with teammates to be somewhat or even very challenging. Real Strategy Advisors believes that not only does remote working make collaboration between employees a problem, but it will be a likely hurdle for new hires as well. Recounting the experiences of co-workers at Foko Retail, a tech company that provides tools to help optimize task management and communication in retail environments, Aja Butler George (Director of Marketing) told us that:
"There were lots of people who really missed the in-person day-to-day interactions with coworkers, the ad hoc collaboration, and communication that goes along with it…" — Aja Butler George (Director of Marketing, Foko Retail)
Finally, when we asked people's preferences on the speculative return to the office, the responses showed a yearning for face-to-face interaction with more than 40% of respondents reporting to be either extremely or somewhat happy about potentially going back to the office. A tepid reaction was given by 30% of respondents who said they were neither happy nor unhappy with this idea and the remaining 28% being somewhat or extremely unhappy. Some worried about workplace safety and others about the loss of their newfound flexibility. Our findings here generally reflect Real Strategy Advisors' predictions concerning how employee demand for a work-from-anywhere model will continue to grow as workers and managers gain experience in how to manage it well.
The generational divide
While the overall remote work experience was universally well regarded with six in ten respondents having reported remote work having a somewhat or extremely positive impact on their ability to focus, there was still interesting variation for respondents aged 40 years and older. Of the 40 and over cohort, 33% reported an extremely positive impact on focus compared to 17% of those under 40. However, 44% of the under 40 respondents reported the impact as somewhat positive compared to 25% of those 40 and over who felt the same. While the ability to be heads-down and concentrate at home has been generally positive, it seems that older workers are enjoying the experience just a little bit more.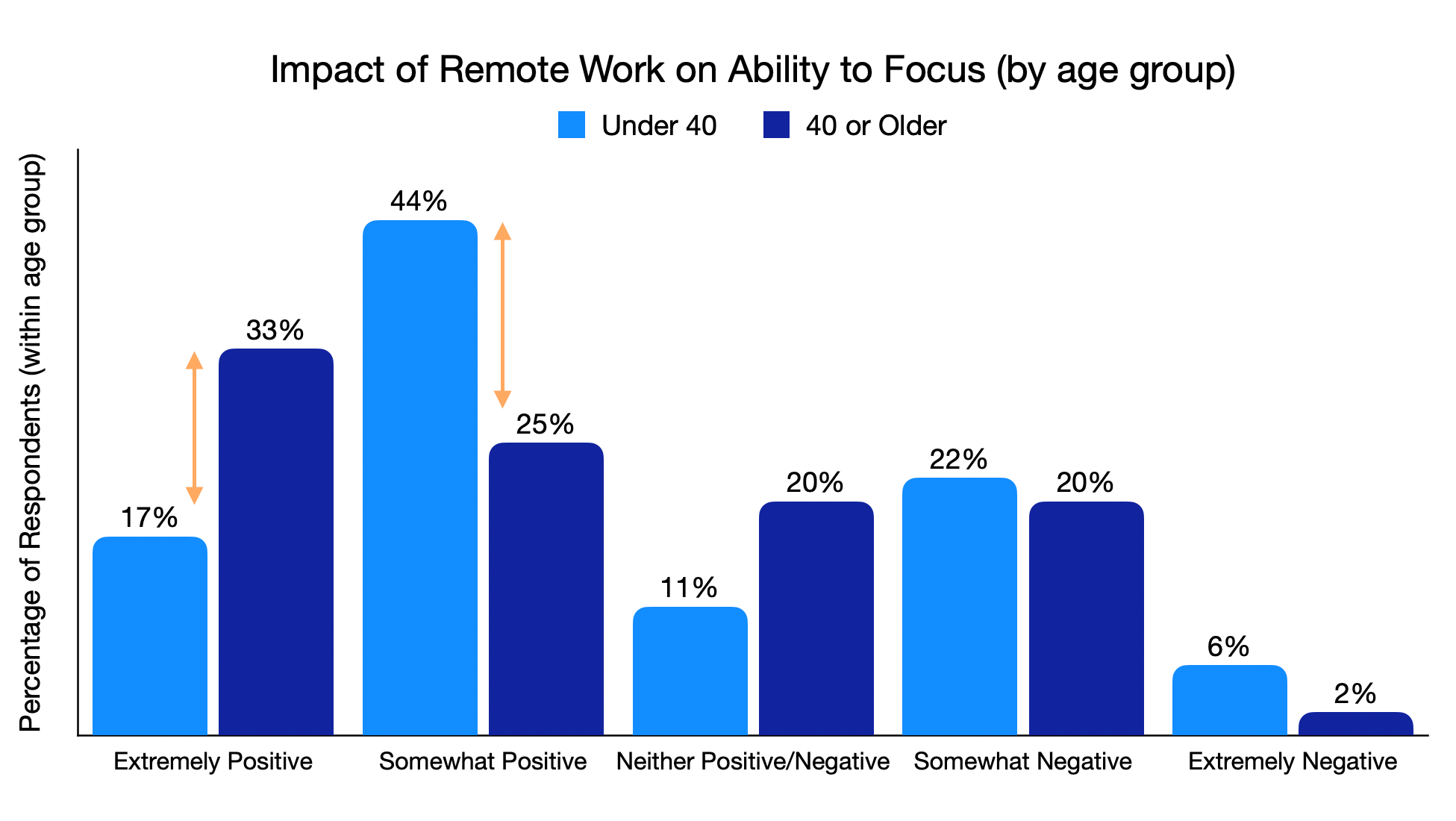 The age gap became even more apparent when looking at how remote work has impacted productivity. Again, nearly 6 in 10 respondents reported remote working having a somewhat or extremely positive impact on their productivity. When we factor for age however, 27% of those aged 40 or older report an extremely positive impact while only 11% of those under 40 said the same. There were noted age group differences in terms of a negative productivity impact but we did not feel comfortable speculating on this given the fewer numbers of respondents (especially 40 and over) choosing these options. Although we saw a similar age split with the impact on the ability to focus, Real Strategy Advisors questions whether it can be said that productivity remains this positive when collaboration with peers is as difficult as reported.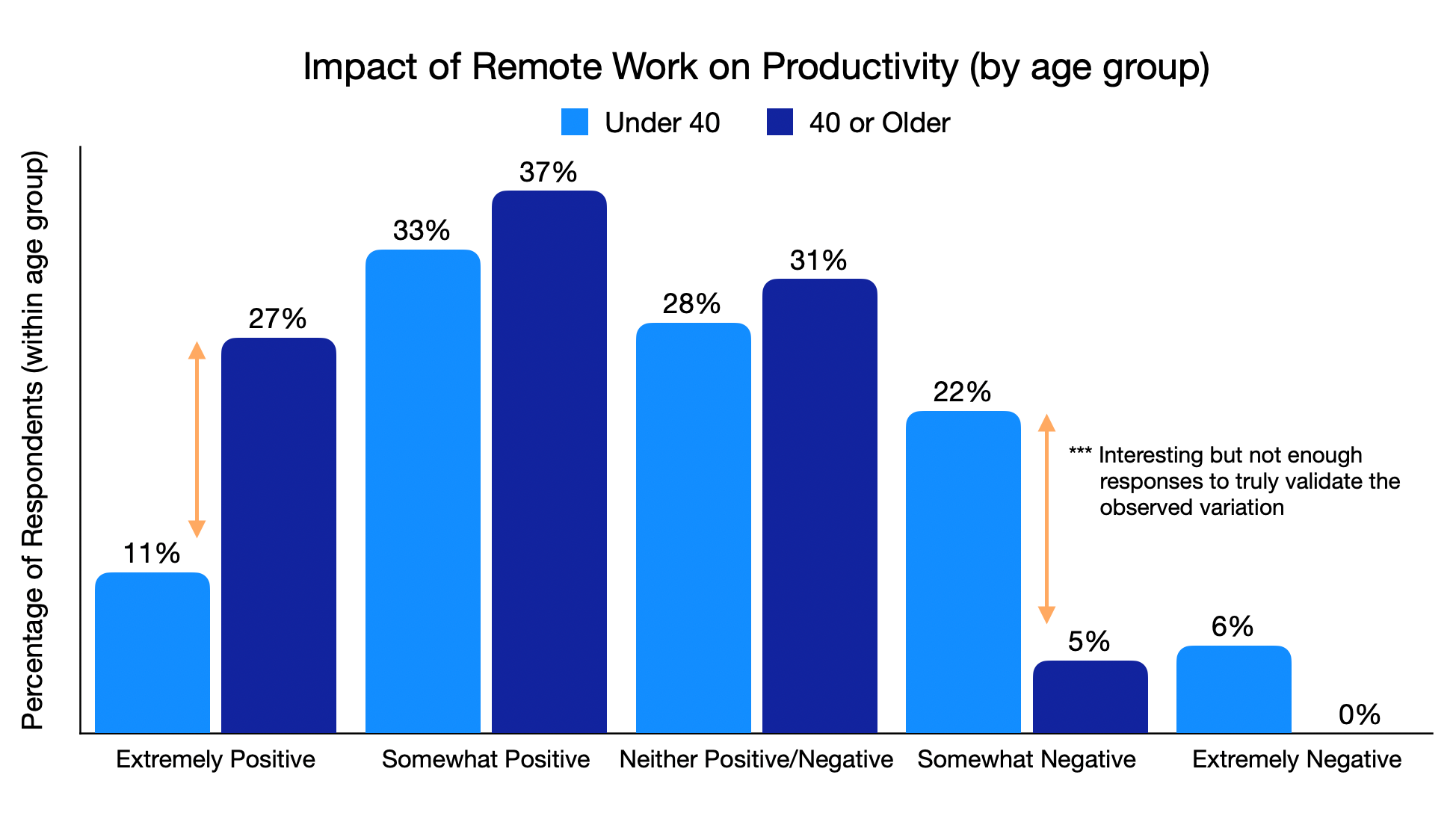 Some BIG takeaways
One of the primary motivations in Real Strategy Advisors conducting this survey was an attempt to provide our clients with insight into what is likely to be the employee preference for working in a physical office versus from home. Also, what that new reality means in the context of tenant demand for office space in general. Respondents were asked what breakdown of time (on a percentage basis) they would prefer to work in their home, at their employer's office, or another location of their choosing. The results showed that people wanted the following composition: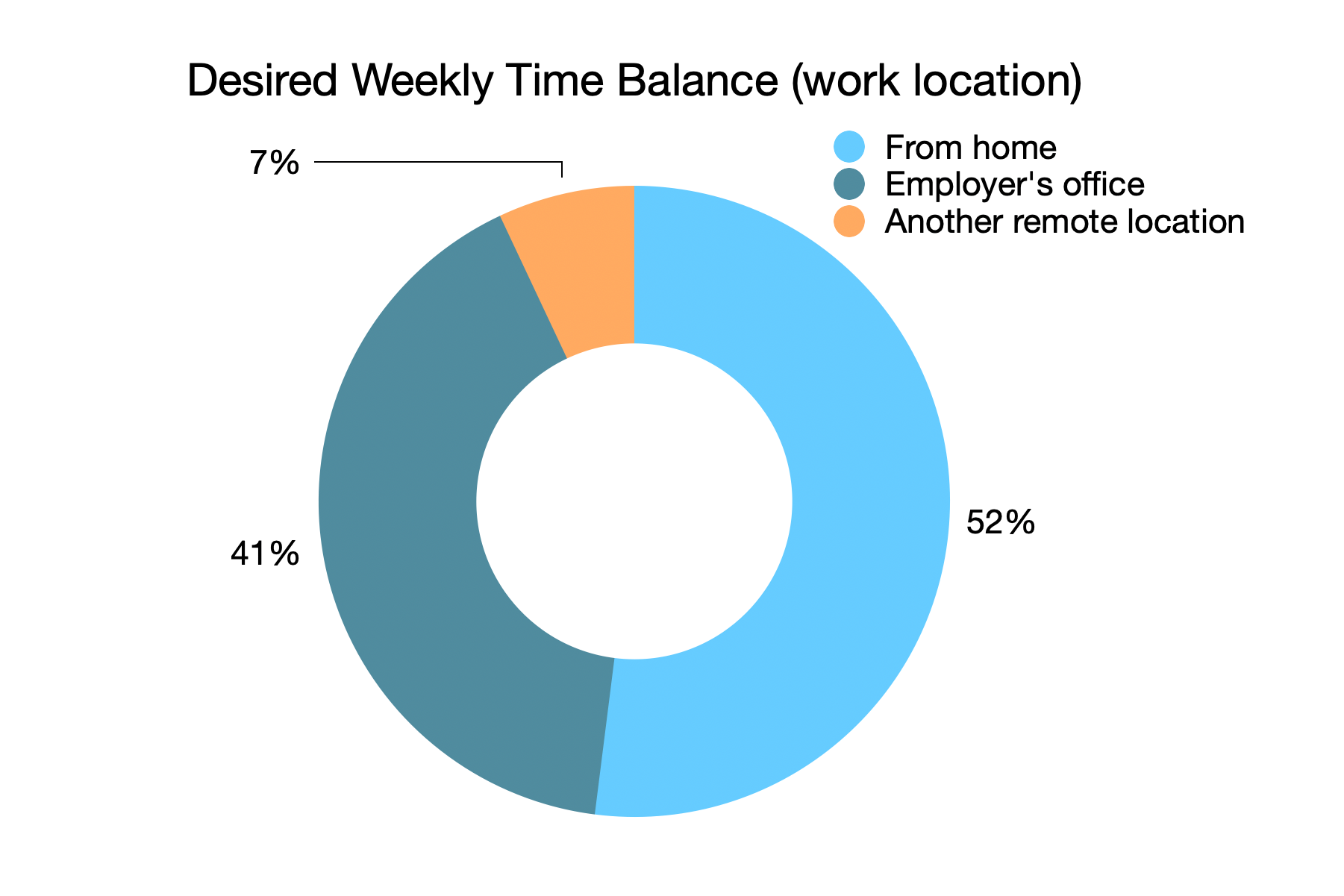 Real Strategy Advisors believes that while it might be reasonable to think that tenants will quickly shed half of their space on account of employees only wanting to work in-office 40% of the time, we don't think such a drastic move will be seen. Instead, once the fear of COVID-19 has abated, there will still be factors like the seasonality of the business, "crunch times", or perhaps the desire to safely socialize that will generate demand for space beyond what's simply needed by the average employee population physically present for a typical Monday-Friday workweek.
Therefore, Real Strategy is predicting that average office tenant demand will likely decrease by approximately 25% but in some cases more.
As we've seen in previous instances of economic recession and, as we're currently seeing play out before us, most businesses are signing short-term leases or even giving some square footage back. Some smaller companies are even experimenting with going completely virtual. This precipitous drop in demand is resulting in increased vacancy and availability, leading to decreased rental rates (and additional tenant-friendly inducements). Ottawa's booming sublease market is a leading indicator of what's to come supporting Real Strategy's message that office space has just gone on sale. Tenant opportunities that would have been inconceivable just a year ago are now being considered, which should make strategic thinking about an organization's current and future needs for physical office space a given top-of-mind priority.
We didn't expect to find that there would be an age divide aspect to this evolving picture on what office space and work will look like with our survey. We will continue to expound on the potential implications of this and discuss other interesting results in our following piece next week. Contact Real Strategy Advisors today so we can have a discussion surrounding your organization's working from home views and overall policy. We'll use real data from your company to come up with a solution customed tailored to your needs!
Please click here to read Part 3: https://realstrategy.com/worrying-about-mental-health-office-transformation-covid-19/