Please click here to read Part 1: https://realstrategy.com/construction-and-layout-the-post-covid-office/
Bryan also shared that we will continue to incorporate other design philosophies like natural features (such as water and plants) in the workplace, data-driven user experience, and sensory elements designed to help break down the formality associated with the traditional office. Although confident that this mentality will persist, Bryan is also the first person to acknowledge that the pandemic isn't over and we will continue to learn about how COVID-19 will ultimately impact office space…
"This pandemic has opened the door to questions like 'How do we adapt our business model?' and there's no easy answer. It's a learning process that we're all in the middle of." — Bryan Wiens (Principal and Interior Designer, LWG Architectural Interiors)
The drive behind the incorporation of aspects from different design philosophies, including hospitality and even residential, is that they all come together to create spaces that are unique, comfortable, and functional. Designs that include softened edges and personal comfort tie directly into the concept of wellness which will be a top priority in post-COVID office environments. Similarly, the positive impact of natural light and biophilic design has only increased given their potential for disinfection and improved air quality. Bryan remains an advocate of the unassigned seating and more "open" layout models as they serve the needs to reduce employee density and provide easy-to-clean multi-purpose areas that contribute to better health.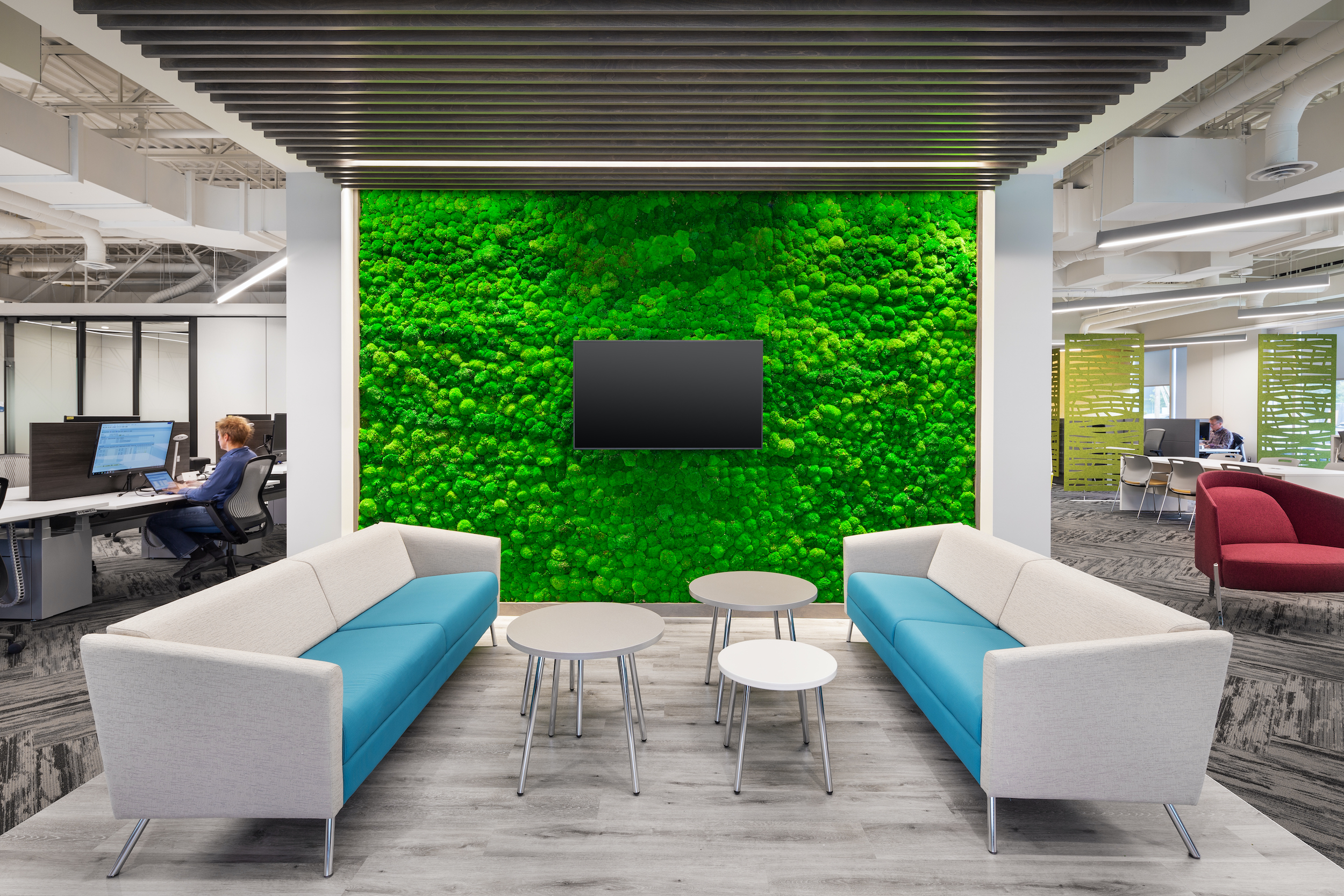 Transition area with living wall example of biophilic design (Photo by: Kevin Belanger)
Personal desks, touchdown spaces, and meeting rooms
With the idea of a personal desk for every employee of an organization now becoming outdated, we discussed the need for wide-scale adoption of shared resources like touchdown spaces and teaming areas. This push for the "anti-office" in workplace design foresees offices of the future being individualized furniture showrooms with the amenities of a business centre or café in a posh hotel. When it comes to office staples like conference and meeting rooms, Bryan thinks there'll be changes that make them cater to flexibility and modularity for the reduced in-office employee numbers and any needed social distancing.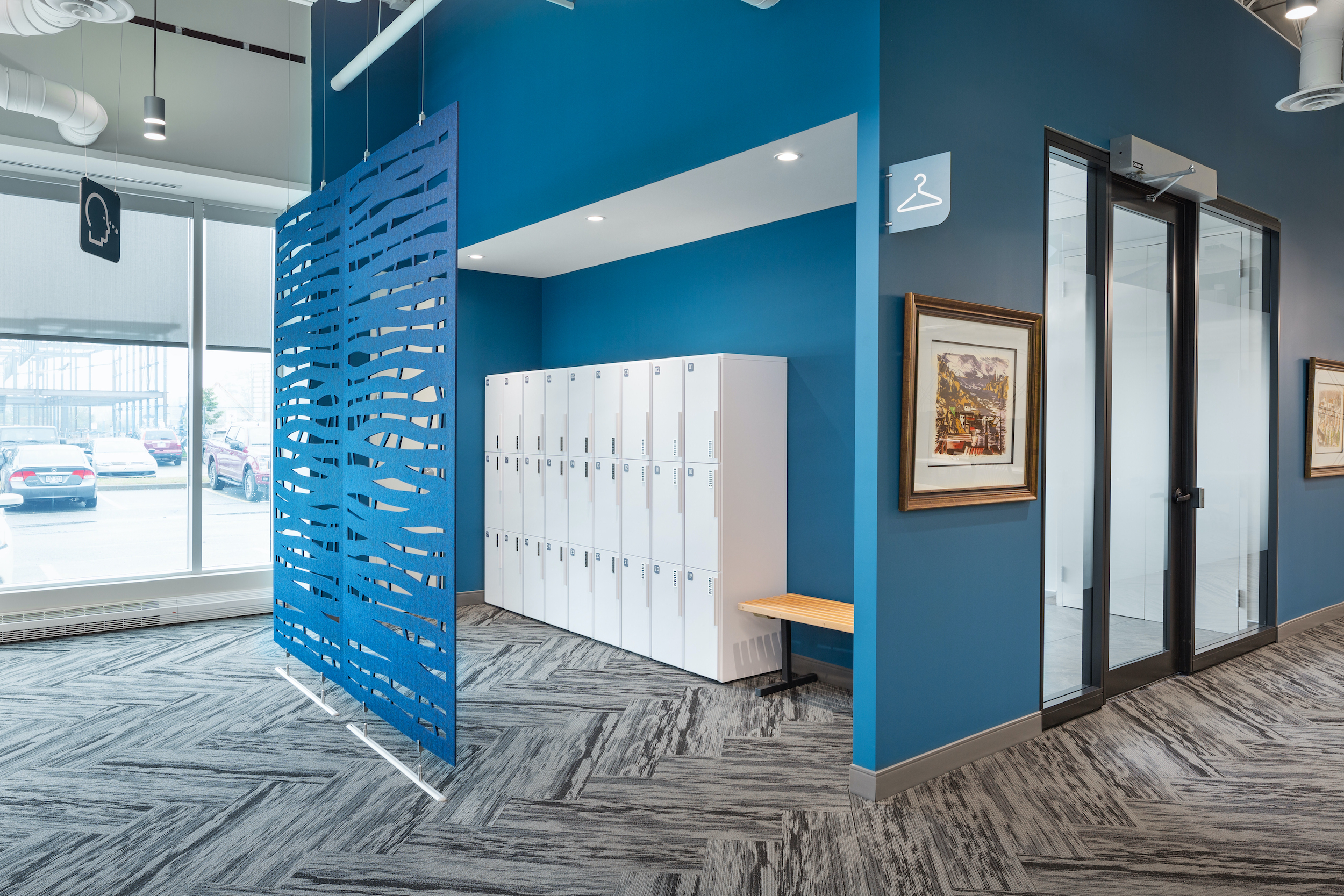 Employee locker area with sound attenuation fabric (Photo by: Kevin Belanger)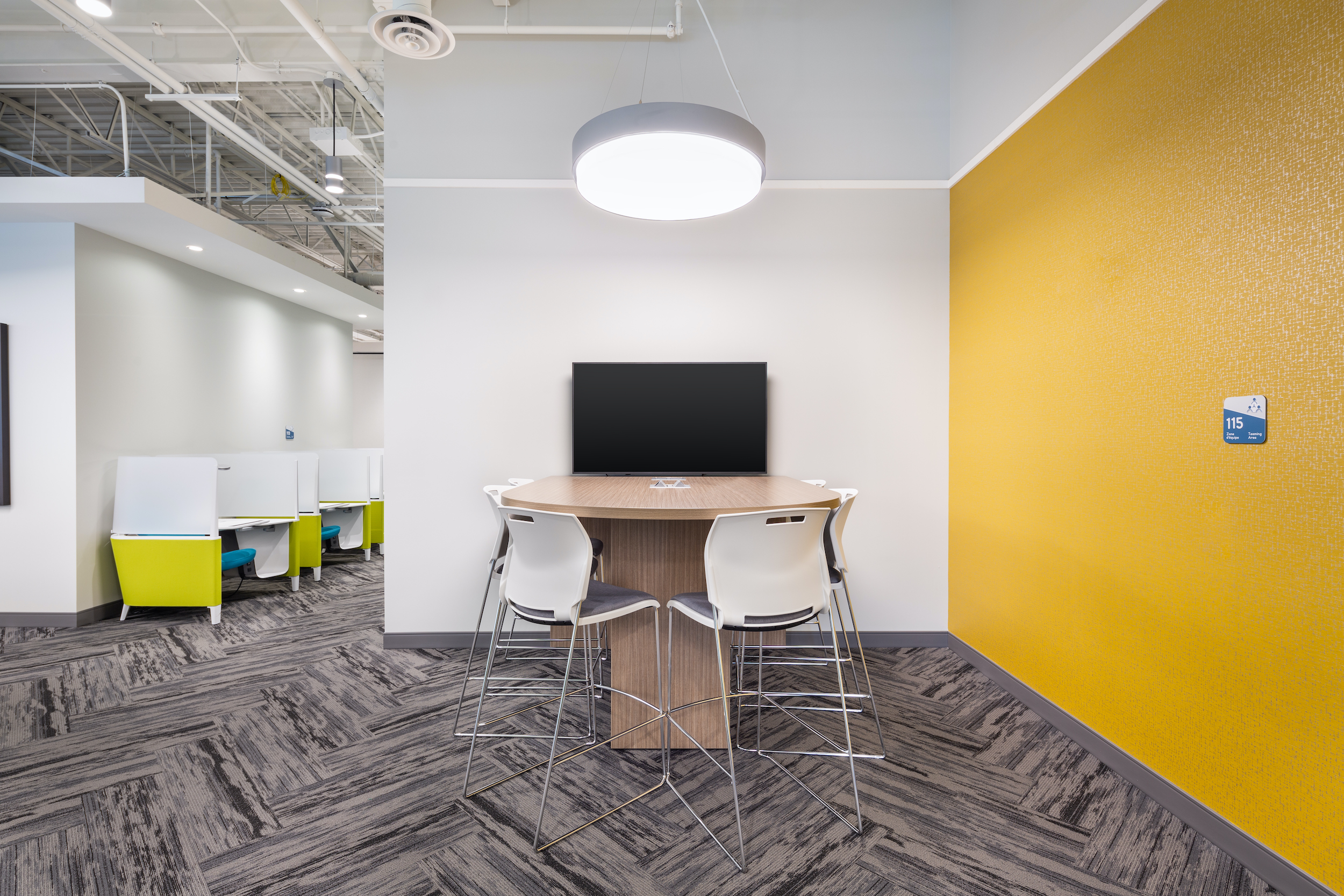 Small teaming area (Photo by: Kevin Belanger)
His belief in this respect is echoed by other speculation of more but smaller conference rooms in the offices of the future. An office that might normally have a couple of different conference or board rooms (e.g. one for company meetings and one with a wow factor for client meetings or outfitted with specific technology), will have to be multi-functional and outfitted with the necessary technology. Whether it's the use of moveable consoles or demountable wall systems, Bryan also champions this approach because it ties in with sustainability, minimizing construction costs and waste.
"These rooms serve more than a nice-to-have for clients and staff, they're also places that can inspire pride of place and positively reflect the company. Designers just need to make sure furniture and layouts can be flexible and easy to adapt to needs as they change… because we don't know exactly what they will be!" — Bryan Wiens (Principal and Interior Designer, LWG Architectural Interiors)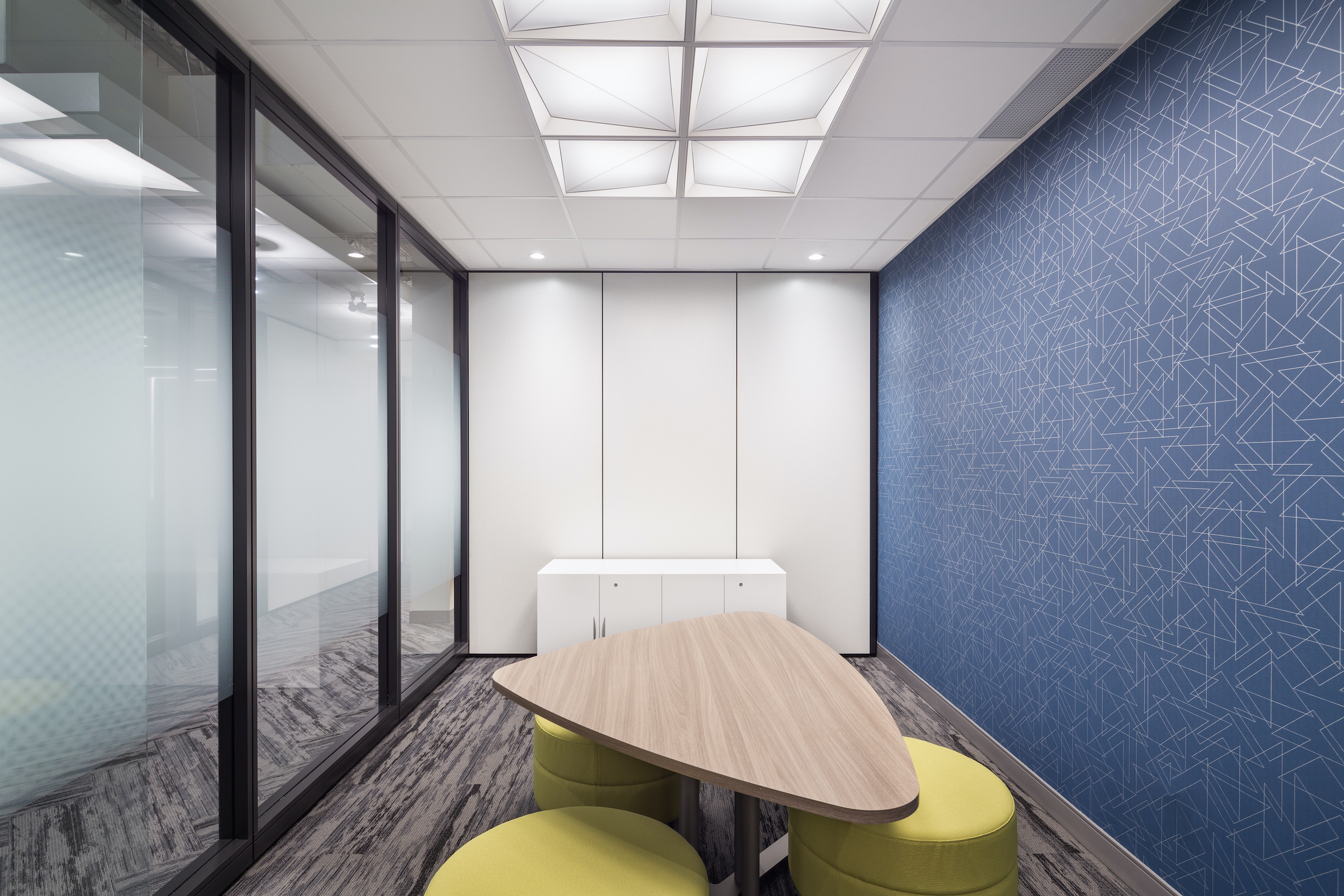 Flexible meeting room (Photo by: Kevin Belanger)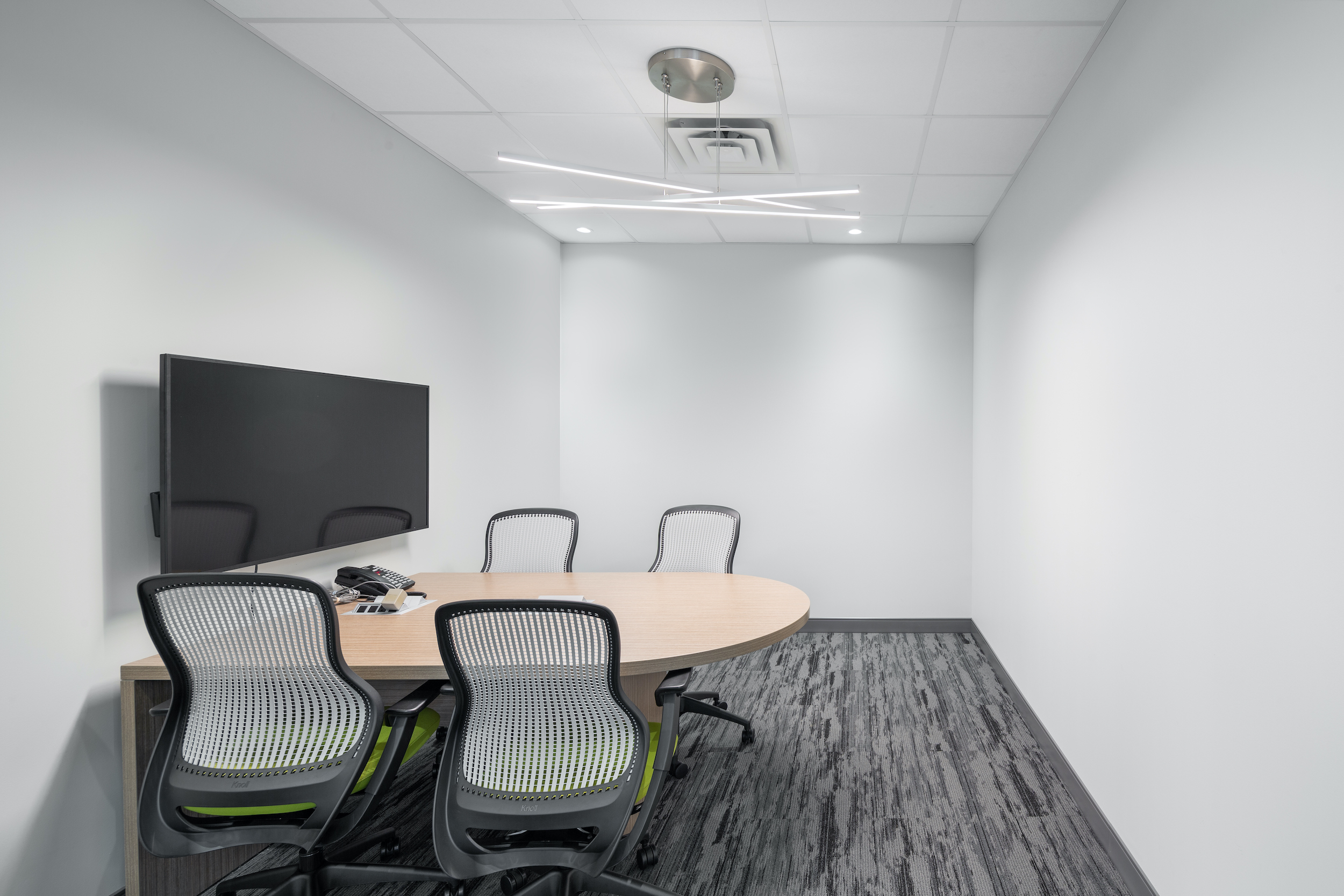 Teleconference meeting room (Photo by: Kevin Belanger)
Bryan also recounted a recent pilot project done with a government department that had been apprehensive of the sharing component of a GCWorkplace up until COVID-19. Then, almost immediately, the client switched from wanting an assigned, individual autonomous profile to an interactive one with more emphasis on collaborative areas and support spaces (e.g. a library and tea room).
The change mandated an overnight redesign by Bryan's team to bring the space allocation ratio down from 0.8 desks (i.e. work stations) per employee to 0.5 — a reduction of almost 40%! Bryan believes that the changes seen in this pilot project are a taste of what's to come for office environments with satellite offices and co-working spaces (like WeWork) undoubtedly becoming more popular in the suburban hubs.
Contact Real Strategy Advisors today so we can discuss your organization's remote work policies, employee experiences, and what your physical office space needs look like. We can also consult on workplace strategy and come up with a custom tailored solution so your office culture doesn't suffer.